>> Product Description
Rod Lenses are polished on the circumference and ground on both ends. A carefully controlled manufacturing process produces rods (or fibers) with precise diameters and unsurpassed surface quality. Optical performance is similar to a cylinder lens. Collimated light passing through the diameter of the rod will be focused into a line.. N-BK7 and UV Fused Silica substrates are available for a variety of UV, Visible and NIR applications.
Rod lenses designed for use in a variety of laser and imaging systems, these components are available in a range of micro sizes for integration into a host of OEM applications. Custom sizes, variations in polishing/ ground surfaces and additional coatings are available upon request.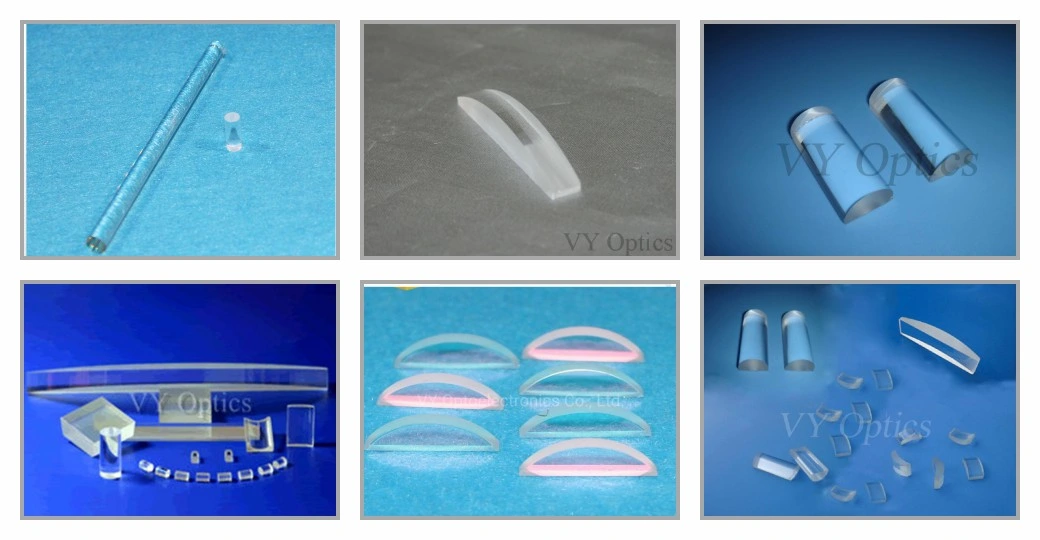 >> Specification
We supply optical rod lens, specification of our rod lens as follow:
Dimension Range: 3-50mm
Polish on both sides, cylindrical side or all side
Diameter tolerance: +0/-0.02mm
Thickness tolerance: +/- 0.02mm
Centration: <3 mins
Surface quality: 40/20
Surface accuracy: 0.5-0.2
Clear aperture: >90%
Chamfer: 0.1-0.25mm*45 degrees
Coat: As requested
Material: Float glass, K9, FS, Sapphire, SF11, CaF2, MgF2 or other optical glass
| | |
| --- | --- |
| Range of diameter | Dia.0.7mm-Dia.400mm |
| Range of curve radius | R1.5-R∞ etc. |
| Tolerance of diameter | +/-0.1, +/-0.01, +/-0.005 etc. |
| Surface accuracy | λ , 1/2λ , 1/4λ , 1/10λ etc. |
| Tolerance of Thickness | +/-0.1, +/-0.05, +/-0.01 etc. |
| Centration | +/-2′,+/-1′ etc. |
| Aperture N | 5, 1 etc. |
| Irregularity ΔN | 2, 1, 0.5, 0.2 etc. |
| Surface quality | 60/40, 40/20, 20/10, 10/5 etc. |
>> Company Introduction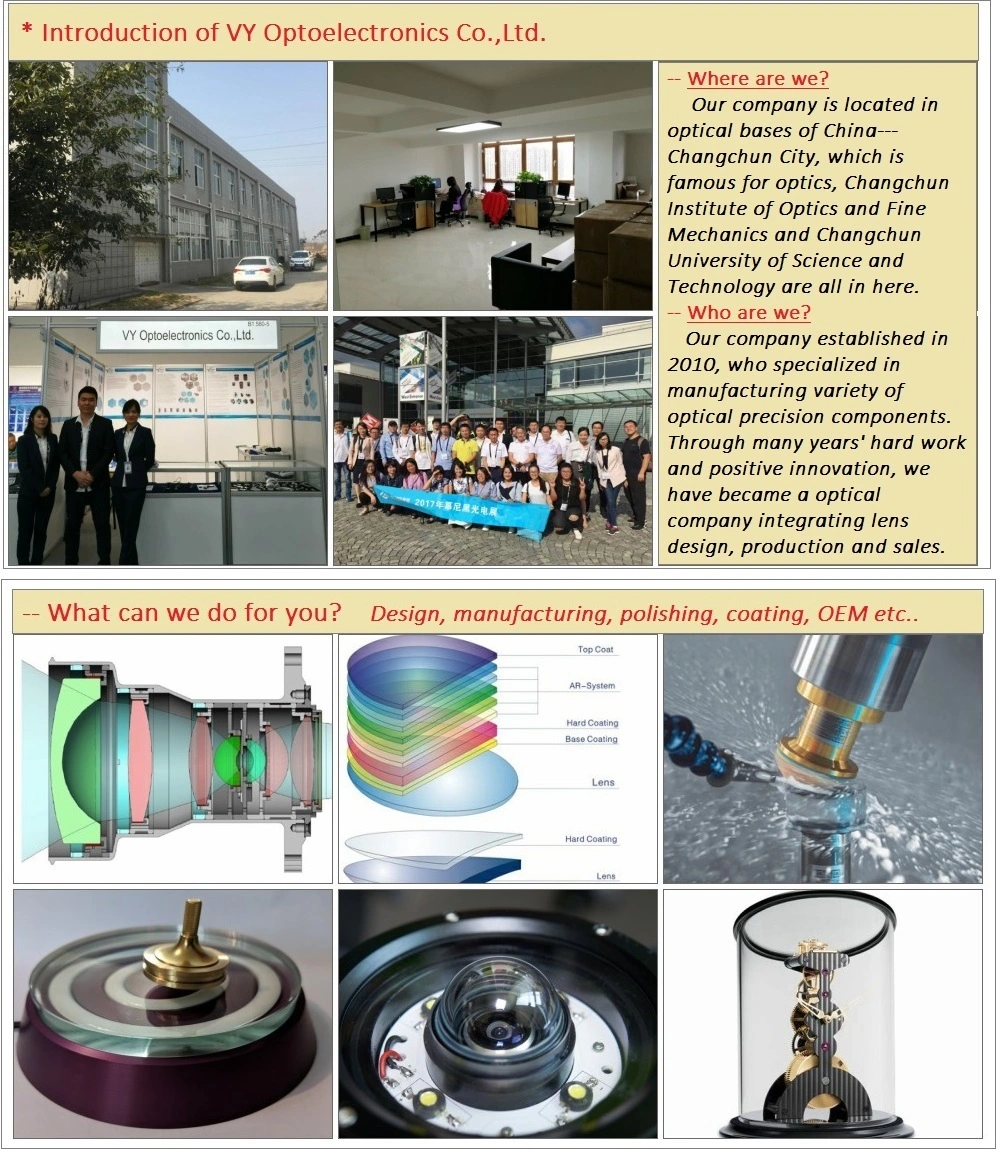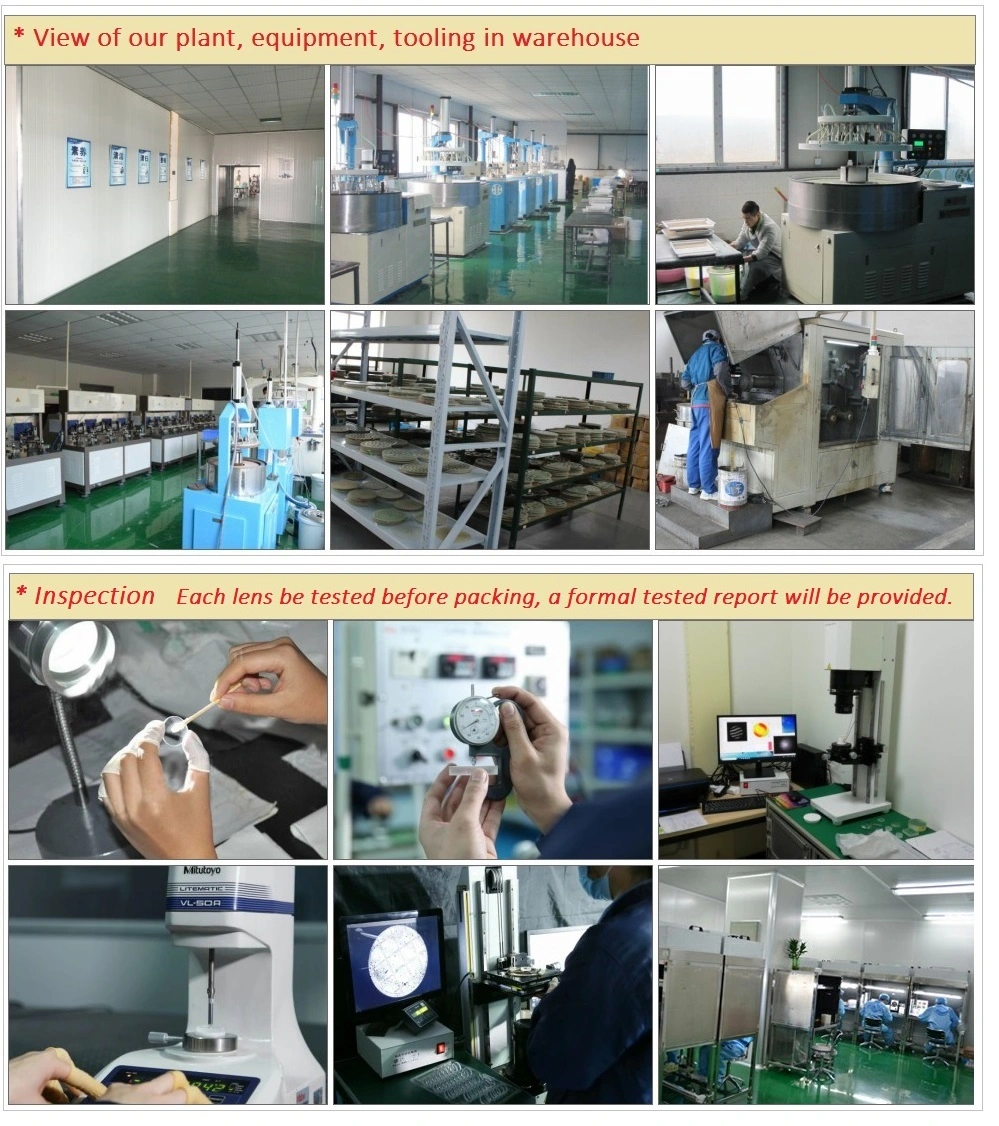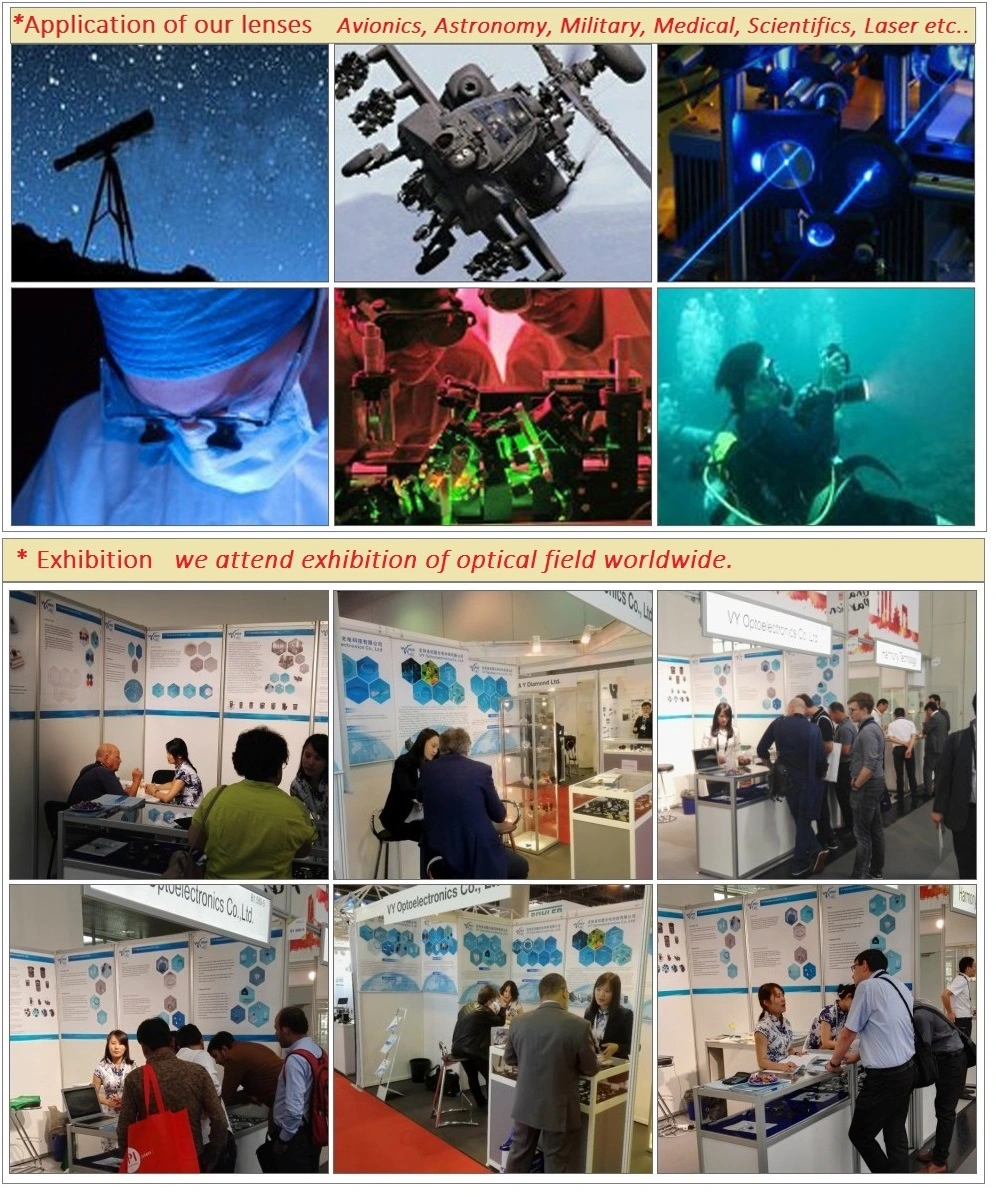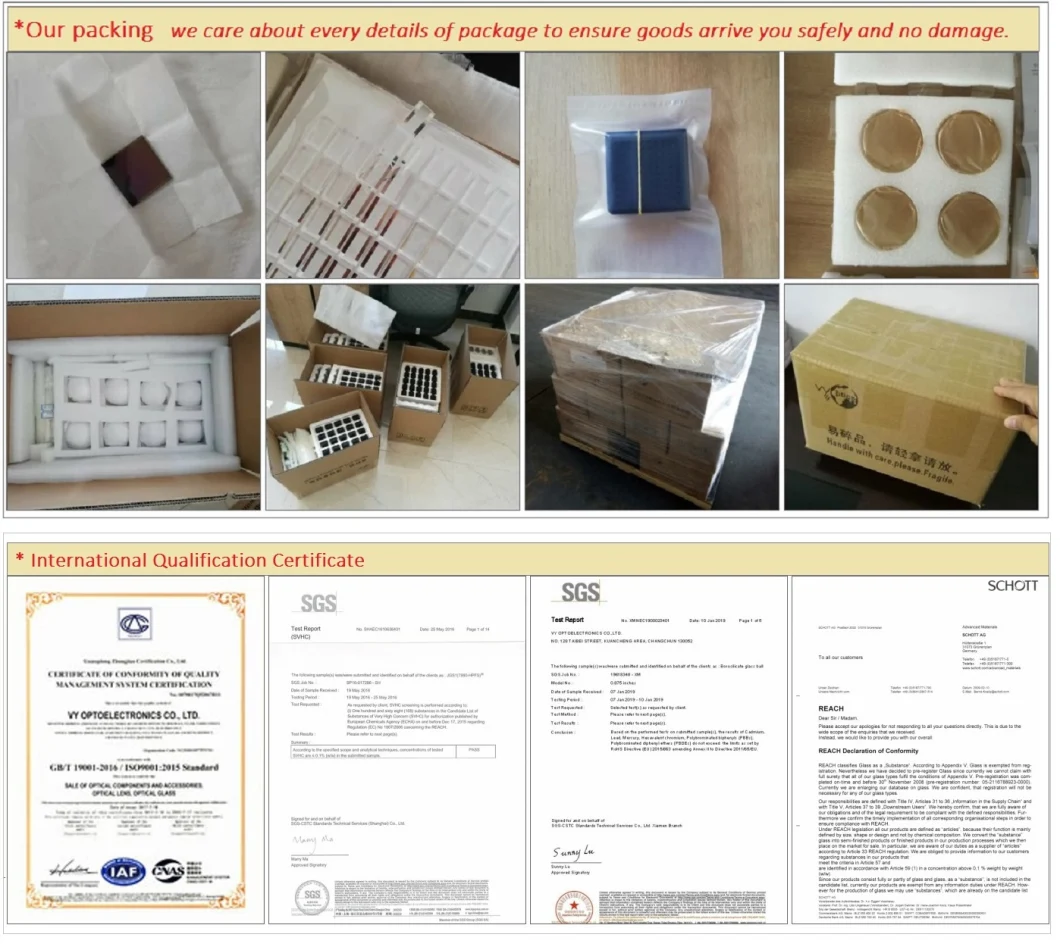 >> Related Products
VY Optics could also manufacture and design other optical elements, including achromatic lens, dome lens, filter, prism, ball lens, cylindrical lens, optical mirrors, spherical lens and rod lens, we can fabricate high-precision lens as per your requested.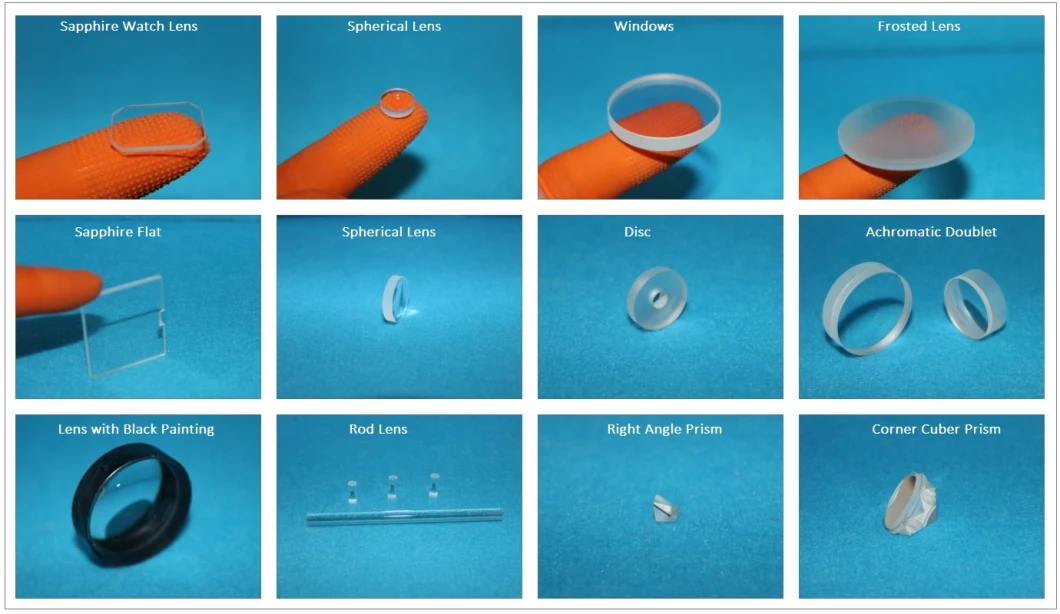 >> FAQ
Q: Do you provide samples? Is it free or charged?
· We'd like to supply samples for free if we have it in stock, but we don't pay freight.
Q: How long is your delivery time?
· Regarding inventory, it is 3 working days;
· For customized one, it's about 15-25 working days, depended on exact quantity and order date.
Q: Is it possible to customize special lens?
· Yes, to customize special optical element and coating are available here.
Q: How to pay?
· T/T, Alibaba online assurance payment, MoneyGram, West Union, Paypal and so on.
Q: How to ensure the safety of payment?
· VY Optics is a reliable supplier not only audited on Alibaba, but also on Made-in-China, reputation and quality is life of our company, and we support Alibaba Trade Assurance.
Q: How do you ship goods?
· Low value sample: EUB, E Express of China Post, which is cheap;
· Light weight parcel: DHL, FedEx, TNT, UPS, EMS, SF Express, China Post;
· Heavy cargo: by air or by sea, ship on pallet.
Our company enjoy a considerable discount owing to long-term cooperation with courier company.