Product Description
Optical Lenses are optical components designed to focus or diverge light, widely applicated from microscopy to laser processing. A Plano-Convex or Double-Convex lens causes light to focus to a point, while a Plano-Concave or Double-Concave lens diverges the light which traveling through the lens. Achromatic Lenses are ideal for correcting color, aspheric lenses are designed to correct spherical aberration.Ge, Si, or ZnSe lenses are suited for transmitting the Infrared (IR) spectrum, fused silica is well suited for the Ultraviolet (UV).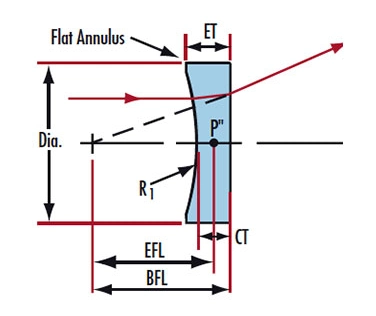 Plano-Concave (PCV) lenses
Plano-Concave (PCV) lenses have one flat and one inward curved surface. PCV lenses have a negative focal length and are used for image reduction or to spread light.
| | |
| --- | --- |
| Diameter Tolerance | +0.0/-0.05mm |
| Center Thickness Tolerance | ±0.02 mm |
| Focal Length Tolerance | ±2% |
| Surface Quality | 60/40, 40/20 or better |
| Material | BK7, UVFused silica, Ge,Si,CaF2, ZnSe, |
| Clear Aperture | >90% |
| Centering | <3 arc min |
| Coating | Custom |
| Bevel | Protective bevel as needed |
Shenyang Ebetter Optics Co., Ltd. has been engaged in more than 20 years. We have rich experience in production and customer service, it can meet the different custom requirement of customers.Our main products include Diffraction gratings, Optical lens, prisms, Optical mirrors, Optical windows and Optical filters etc.All products of our company have passed CE and RoHS certification, and we have ISO9001 certification.