We are manufacturers of Precision optics & Optical Components viz. Windows, Prisms, Lens, Optical coating Mirrors, Beam splitters, Filters, Band pass, Reticles, Optical flats, Cylindrical lens, Prism cement, etc. We are partners to our customers, providing high-quality solutions meeting demands. The high quality of our products and services, and the satisfaction of our customers are our ultimate objectives. These objectives are based on the benchmark of compliance with the statutory and official regulations, where different requirements exist depending on the market. We are constantly developing our products, technologies, and services in the interests of our customers and partners. In doing so, we comply with international standards in accordance with ISO 9001 for quality management. Please find below a short description of our PHYO High Quality -BK7, Fused Silica, CaF2, SF11,H-BaK4,H-BaK7 Concave-Convex Lens ( Meniscus)

Lens is a kind of optical component used for transmission or refraction light, converging, or diverging the beam. PHYO OPTICS provide many different types of lens fitting for the optical systems. Size can be Dia2.5mm to 400mm as requested. Including customized coating applied on surface. Normally lens material are chosen from CDGM or Schott if specially requested. Meanwhile, we have stocked lens parts for your reference some of them we can provide as free samples for quality evaluation.
Convex-concave lenses, also known as meniscus lens due to its shape, can be either positive or negative depending on the relative radius of the two surfaces. A negative meniscus lens has a steeper concave surface and is thinner at the centre than at the periphery. Conversely, a positive meniscus lens has a steeper convex surface and is thicker at the centre than at the periphery. An ideal thin lens with two surfaces of equal curvature would have zero optical power, means that it would neither converge nor diverge light. However, all the real lens has thickness somehow, which makes a real lens with identical curved surfaces slightly positive. To obtain exactly zero optical power, a meniscus lens must have slightly unequal curvatures to account for the effect of the lens thickness.


Specification

Commercial

High Precision

Material

As Required Schott,CDGM.etc.

As required Schott, CDGM,etc.

Diameter Tolerance

+0.00/-0.20mm

+0.00/-0.05mm

Focual Length Tolerance

Typical +/-5%@633nm

Typical +/-2% @633nm

Centration

Typical <3arcmin

Typical <3arcmin

Surface Flatness@632.8nm

L/4

L/8

Surface Quality

80-50

40-20

Bevel

0.2-0.5

0.05-0.2

Coating

As required, with paint, Protection coating, high precision

* Glued lens like Archromatic, triplet are still available
Our capabilities include:
Inner knife cutting

Numeric cutting

High accuracy Single side polishing

Double side polishing

High speed Prism grinding

CNC machines for grinding & polishing for lens

Thermal Evaporation coating

Vacuum coating

Sputtering coating

Ultrasonic cleaning
Manufacturing limits:
Tolerance: +0.00/-0.01

Flatness: L/20 for optical flats

Surface quality: 10-5 laser standard

Coating: Single layer, multi layers, dielectric coating, polarizer coating, etc.

Other specs as per customer request
To ensure higher quality and accuracy, our products go through many check points:
Zygo to test Flatness

Spectrometer for Coating curve

Collimators for Centration

Projectors for High Precision Chamfers

Microscope

Size image magnifier

Prism angle tester
We also do custom based orders based on customer requirements and support for R&D project purposes
Prisms Manufacturing


_____________________________________________________________________________________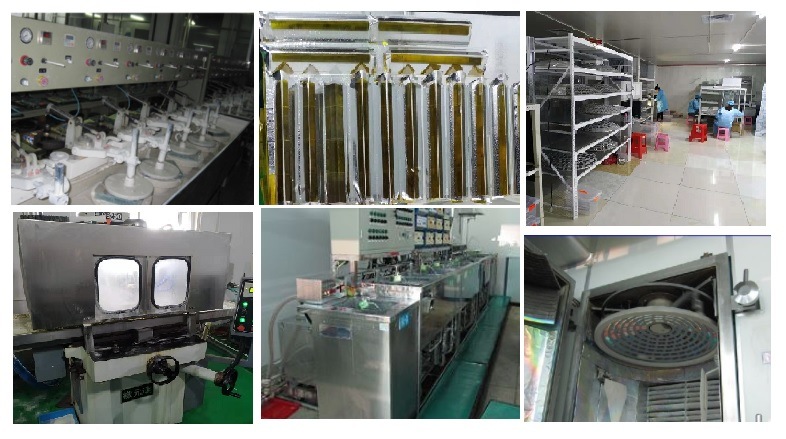 Surface finishing high precision Polishing and Coating
________________________________________________________________________________________



Precision Optics
_________________________________________________________________________________________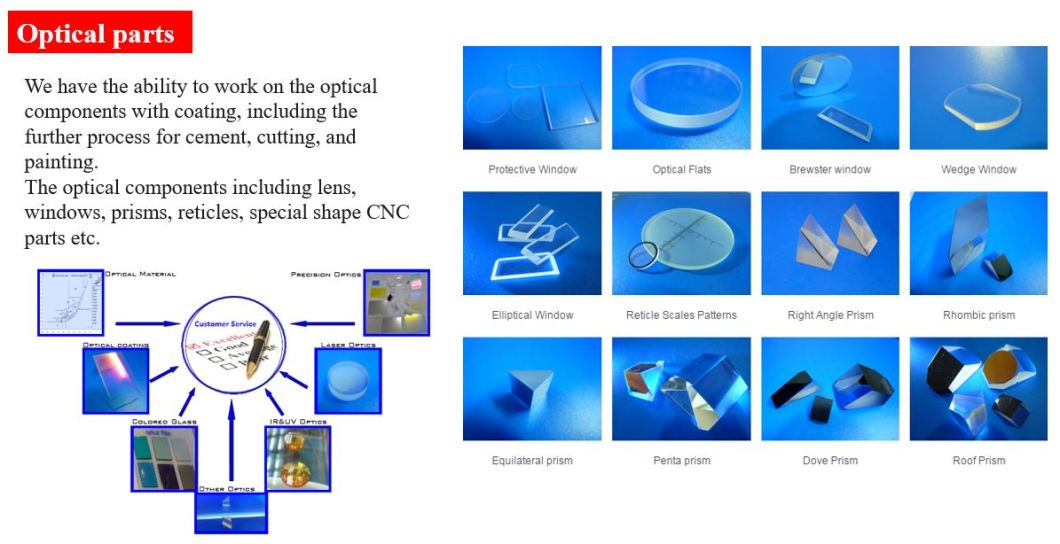 Packing for Delivery
__________________________________________________________________________________________