>> Product Description
Sapphire rod lens is popular, it's also called cylinder lens.
Cylindrical lens is used to correct astigmatism in the eye, and, in rangefinders, to produce astigmatism, stretching a point of light into a line.They are available in either plano concave or plano convex configurations.
Plano-Concave Cylindrical lenses have a negative focal length and are used for image reduction or to spread light. Plano-Convex Cylindrical lenses have a positive focal length, which makes them ideal for collecting and focusing light for many imaging applications.
Double-Convex Lenses are used in image relay applications, or for imaging objects at close conjugates. Double-Convex Lenses have positive focal lengths, along with two convex surfaces with equal radii. Aberrations will increase as the conjugate ratios increase. DCV Lenses are used in a range of industries or applications.
VY Optics offers a wide variety of single and glued cylindrical Lenses in a range of substrates or anti-reflection coatings for maximum performance in the Ultraviolet (UV), Visible, or Infrared (IR). Anti-reflection coatings include UV-AR, UV Fused Silica or Calcium Fluoride (CaF2) substrates are also available for additional performance in the Ultraviolet (UV) or Infrared (IR) spectrums. UF Fused Silica Double-Convex Lenses are ideal for close conjugate imaging systems utilizing Ultraviolet (UV) illumination. Calcium Fluoride (CaF2) offers a very wide transmission range of 350nm - 7μm.
We could manufacture Plano-convex cylindrical lens, plano-concave cylindrical lens, bi-convex cylindrical lens, bi-concave cylindrical lens, meniscus cylindrical lens, long cylindrical lens, special cylindrical lens etc.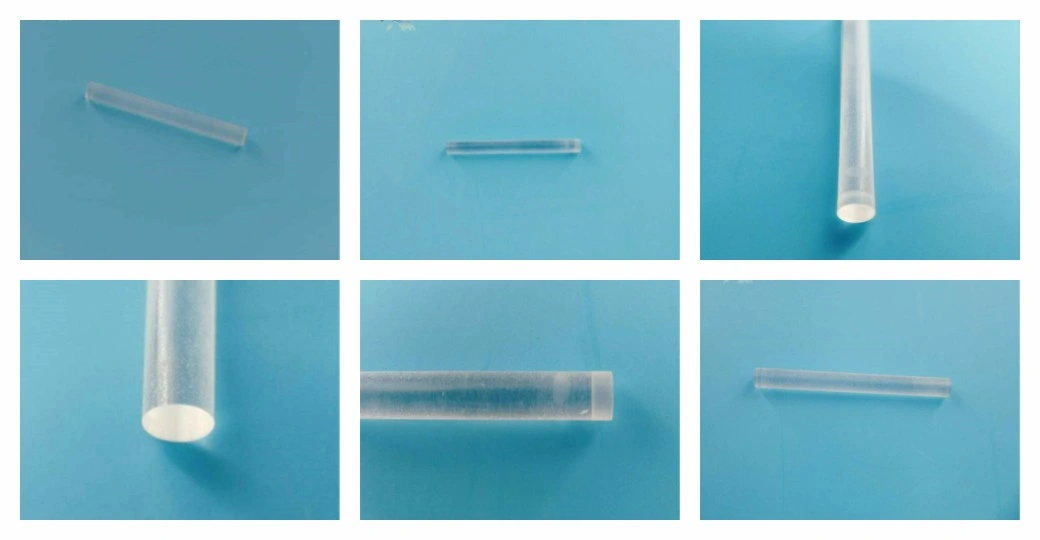 >> Specification
Specifiction of our cylinderical lens as follow:
*Material BK7 or other optical materials
*Dimension Tolerance +0.0 -- -0.1mm
*Center Thickness +/-0.1mm
*Focal Length Tolerance+/-1%
*Surface Quality: 20/10
*Surface Figure lambda/2 at 633nm on plano side
*Clear Aperture > 90%
*Chamfer 0.25mm at 45 degree typical
*Coating Optional
| | |
| --- | --- |
| Range of diameter | Dia.0.7mm-Dia.400mm |
| Range of curve radius | R1.5-R∞ etc. |
| Tolerance of diameter | +/-0.1, +/-0.01, +/-0.005 etc. |
| Surface accuracy | λ , 1/2λ , 1/4λ , 1/10λ etc. |
| Tolerance of Thickness | +/-0.1, +/-0.05, +/-0.01 etc. |
| Centration | +/-2′,+/-1′ etc. |
| Aperture N | 5, 1 etc. |
| Irregularity ΔN | 2, 1, 0.5, 0.2 etc. |
| Surface quality | 60/40, 40/20, 20/10, 10/5 etc. |
>> Company Introduction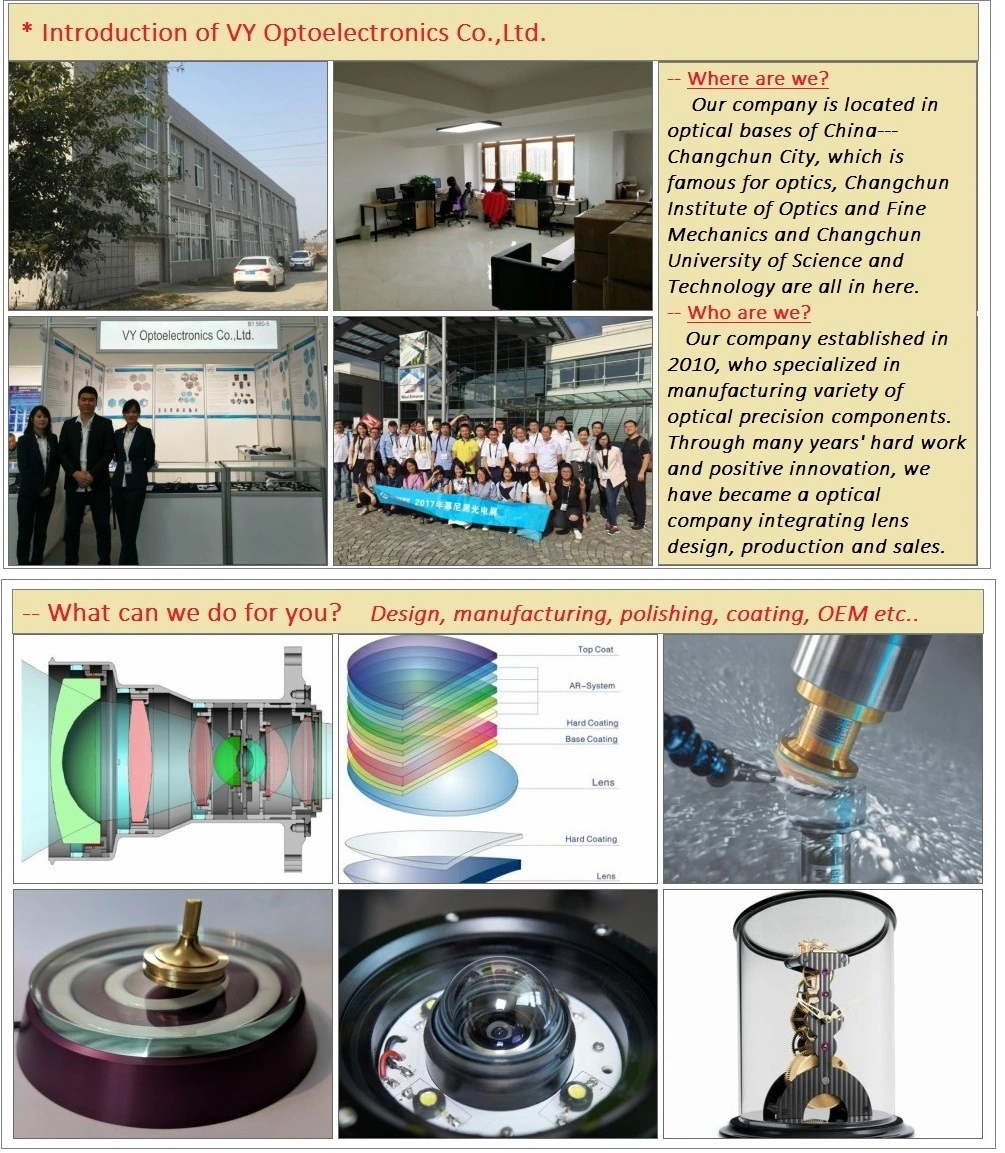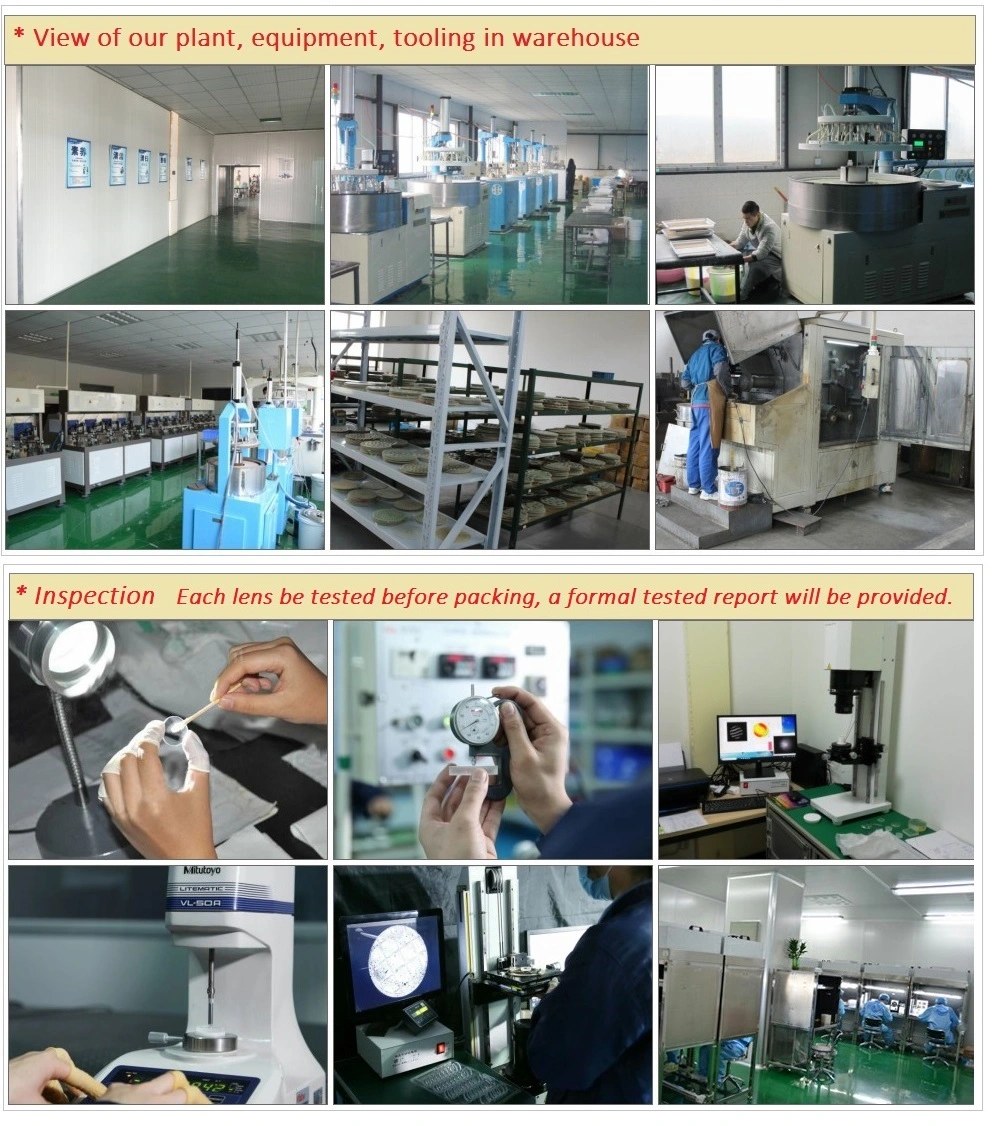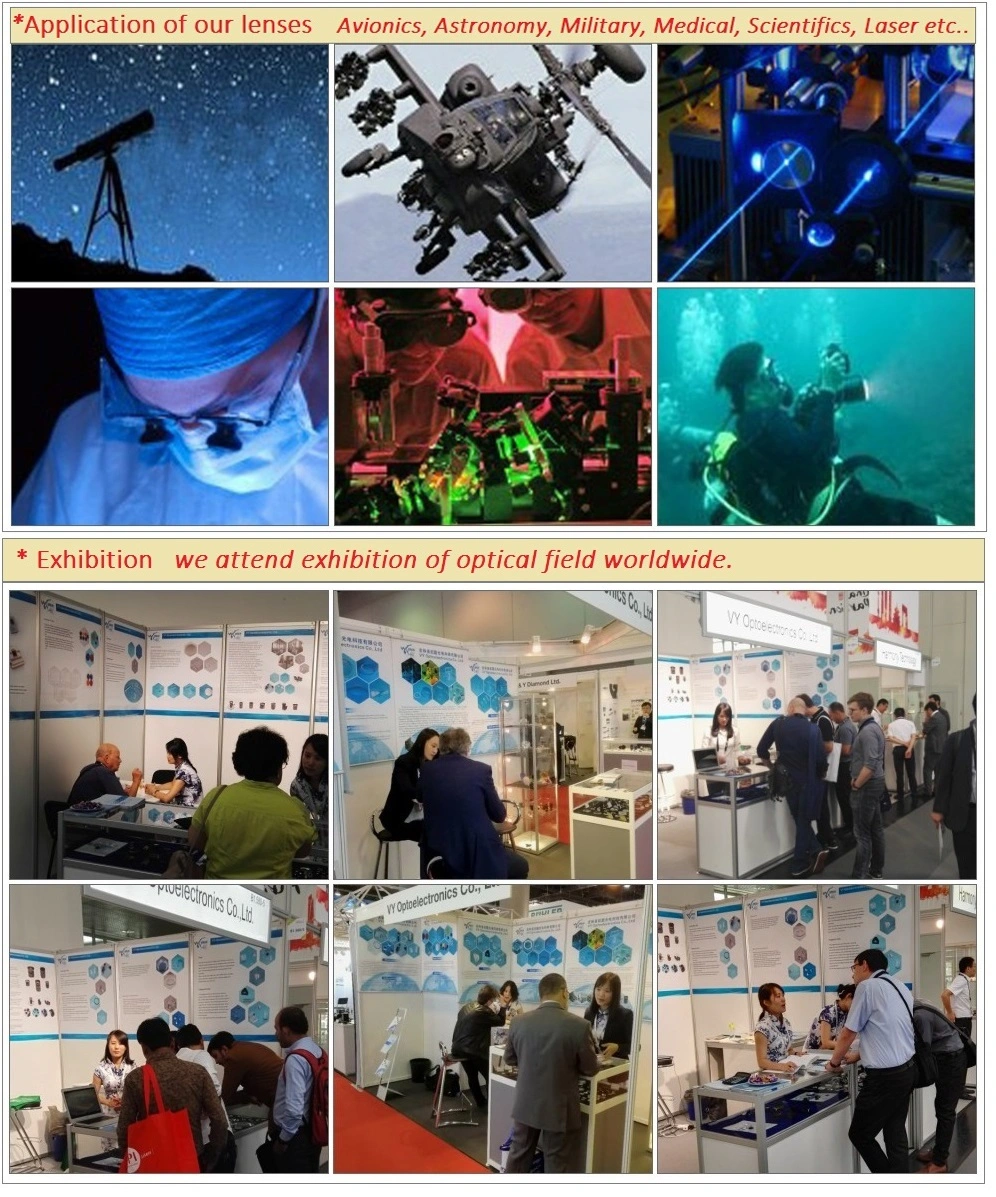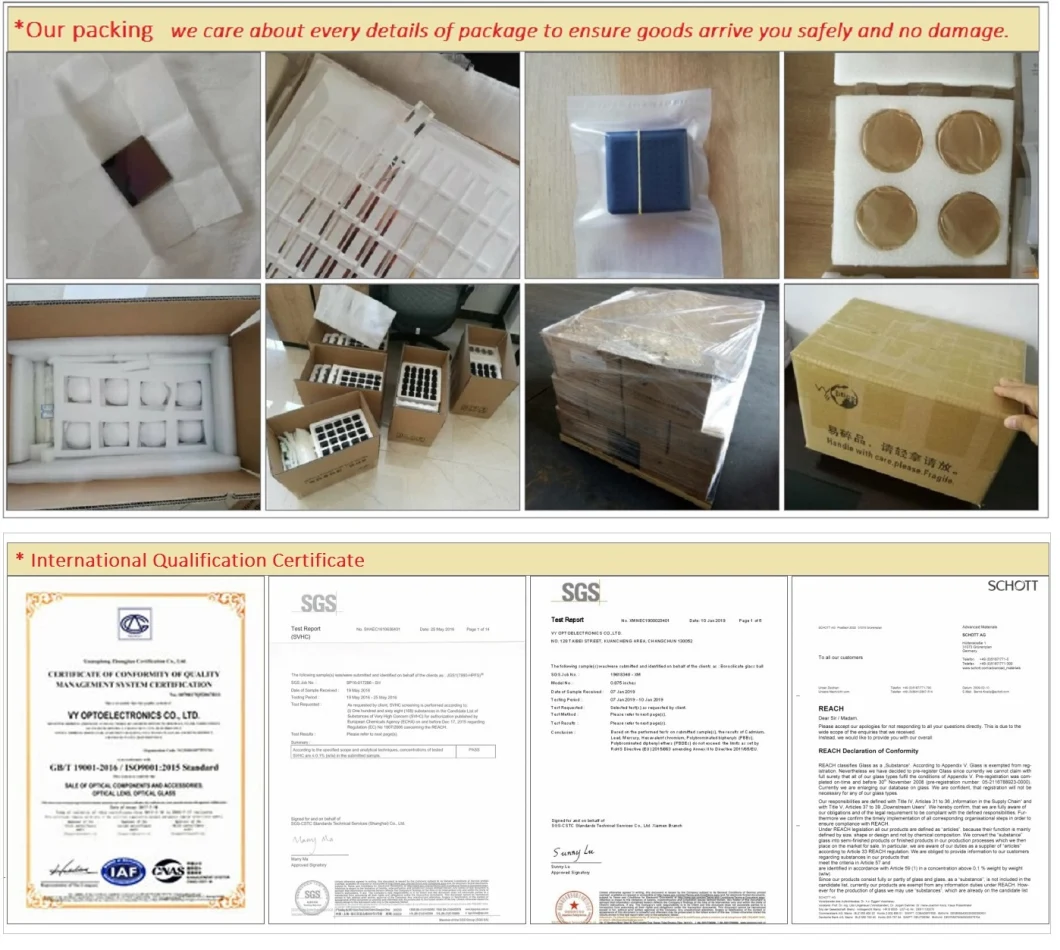 >> Related Products
VY Optics could also manufacture and design other optical elements, including achromatic lens, dome lens, filter, prism, ball lens, cylindrical lens, optical mirrors, spherical lens and rod lens, we can fabricate high-precision lens as per your requested.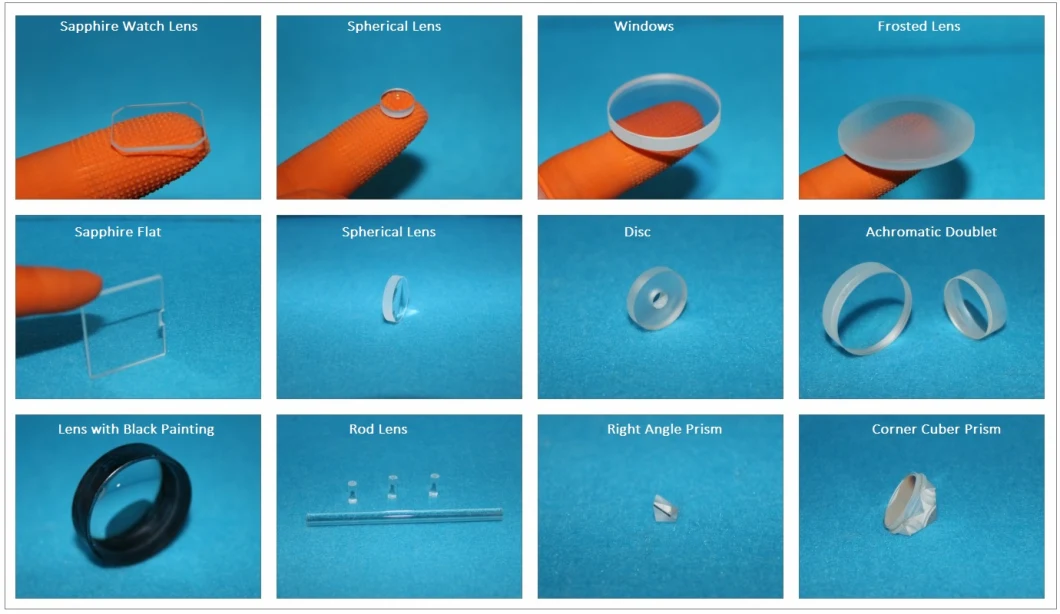 >> FAQ
Q: Do you provide samples? Is it free or charged?
· We'd like to supply samples for free if we have it in stock, but we don't pay freight.
Q: How long is your delivery time?
· Regarding inventory, it is 3 working days;
· For customized one, it's about 15-25 working days, depended on exact quantity and order date.
Q: Is it possible to customize special lens?
· Yes, to customize special optical element and coating are available here.
Q: How to pay?
· T/T, Alibaba online assurance payment, MoneyGram, West Union, Paypal and so on.
Q: How to ensure the safety of payment?
· VY Optics is a reliable supplier not only audited on Alibaba, but also on Made-in-China, reputation and quality is life of our company, and we support Alibaba Trade Assurance.
Q: How do you ship goods?
· Low value sample: EUB, E Express of China Post, which is cheap;
· Light weight parcel: DHL, FedEx, TNT, UPS, EMS, SF Express, China Post;
· Heavy cargo: by air or by sea, ship on pallet.
Our company enjoy a considerable discount owing to long-term cooperation with courier company.